Are you a bit of a shoe-aholic and one of those people that simply can't help themselves when it comes to splurging on a pair of must-have shoes? If this sounds familiar then you are definitely not alone since many of us find ourselves regularly adding to our already rather large shoe collections. And each season we get to check out what's hot in the world of shoes meaning that we have the perfect excuse to treat our tootsies to some fabulous creations!
Maybe one of the reasons that so many of us are involved in a love affair with shoes is that when it comes to clothing and fashion they are necessity which is more than can be said for a large number of fashion trends that we've seen over the years! The best shoe designs tend to combine functionality and practicality with sheer unquestionable chic style. As always this season we've seen some gorgeous shoe designs sashaying down the catwalk and the high street brands haven't been slow to follow suit. So indulge your shoe fetish by checking out these hot shoe trends.
Quirky Heels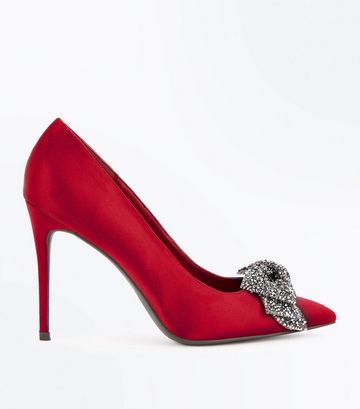 What's not to love about a pair of funky and ostentatious heels that will instantly become the focal point of any outfit. Vivienne Westwood may have been doing it for years but this season other designers have taken note with some fantastically original and quirky heel designs. With embellishments (like the sparkling silver bow on the pair of satin heels from New Look above), fun and bright colours as well as a more interesting use of materials than we're used to, donning a pair of these heels will give you instant glamour even if you're just pairing them with a pair of jeans!
Velvet Wonders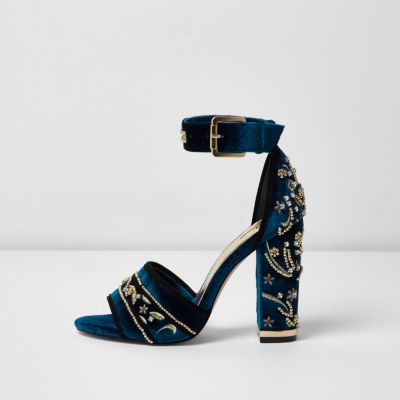 Granted velvet isn't the most practical of materials for shoes when it comes to considering how wet autumn and winter tend to be, however it is undoubtedly one of the most luxurious. Velvet has returned with a bang to the world of fashion and this has also been extended to shoes. Whether you choose crushed velvet or satin, velvet is everywhere from ankle boots, to stilettos to peep-toes so it could be time to make some additions to your shoe stash. Black velvet court shoes are always going to be a style classic, however if you are feeling a bit bolder, splash out on a pair of velvet shoes in some of the gorgeous jewel shades that are so hot this season.
Slouchy Boots
Once a staple look of the 1980s these stylish yet comfortable and practical boots are back in a big way and the great thing about them is that they are supremely easy to wear. Offering the comfort of Uggs with none of the associated laziness, you can style these with jeans, leggings, skirts and more meaning that you don't have to feel too guilty about investing in a pair. Choose some that are made from real leather that are made to last; we love the Pretty Woman style boots in the image which come from Topshop.