We've already mentioned here in our article about shoes how velvet is a top look for your tootsies this season, but this luxurious material is also a key trend when it comes to the rest of your fashion choices too this season. Seen across the collections of countless designers, from bags to shoes to jackets, velvet is everywhere and if you haven't got any of this soft stuff in your wardrobe yet, then it is high time that you got shopping!
This autumn/winter season the fickle world of fashion isn't fussed whether you choose satin or crushed velvet and since both are equally adorable, we are pretty happy about that fact! One thing that we would advise though is to stick to more traditional colours when it comes to choosing velvet clothing. Maroon, black, forest green, navy blue, and brown all look fantastic as do gorgeous jewel colours that are that little bit brighter. Leave the bolder primary colours and neon shades to more forgiving fabrics – don't forget that velvet already has its own natural shine already. Read on now to find out our favourite velvet picks for this season.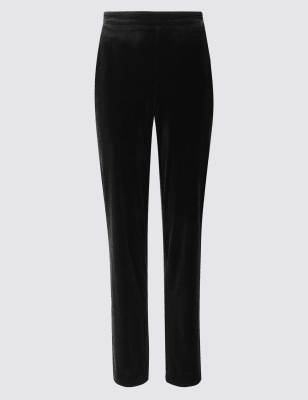 Trousers may not be the first things that spring to mind when you are considering velvet fashion pieces, but they are definitely worth a second look. Velvet trousers can easily add a touch of luxe to your look and we think these will be perfect to wear to the office this autumn and winter. The style of leg in the picture above is straight meaning that you will get just the right amount of drape to allow the velvet to hang beautifully. Wear with a fine-knit jumper like in the picture or with a silk shirt for a glorious mix of luxury fabrics. Get these trousers at Marks & Spencer.
If you only buy one jacket this season, then let this beautiful Zara number be it! Almost echoing a military style, the details of this piece are what really make it from the cuffs to the collar, the slightly asymmetrical buttons and the flare. Much like the peplum style that we saw a few years ago, this shape is wonderful at creating the illusion of the coveted hourglass shape, whether you've got one or not. With the defined shoulders and nipped in waist, this jacket will instantly smarten up any outfit and can pretty much suit any occasion whether its work, drinks or heading to the shops. Buy online at Zara for €60.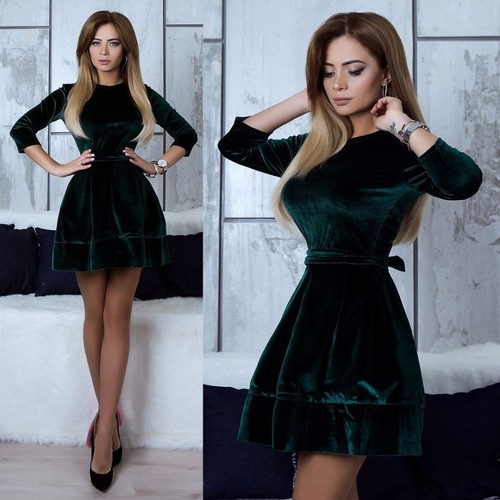 Do you know what we don't see enough of these days? Velvet party dresses. So this season it's time to change all that with a delightfully traditional velvet dress that will have you thinking of roaring fires, chestnuts roasting, Bing Crosby crooning and delightfully old-fashioned winters past. Especially if you are gearing up towards Christmas parties but would rather avoid the ugly sweater competition, this is a lovely option.  The skater style is a really flattering one for the majority of body shapes and teamed with some sheer black tights and heels, you can easily style this dress too. Get it on eBay and choose from dark green, brown, maroon or (a rather questionable) baby pink.