This fashion season we have been seeing some seriously decadent use of materials and embroidery and we must confess that we are fans of these almost Rococo-esque trends! From coats, to jumpers, jeans and more, our favourite ostentatious pieces have to come in shoe form though.
A pair of drop dead gorgeous killer shoes can really vamp up an outfit, so it's hardly surprising that we're fans. And whether you tend to pick flats, trainers, boots, heels or wedges, whatever your style, there is going to be a fabulous pair of shoes out there for you this season. To help get you inspired, here are just a few of our favourite picks.
Embellished ankle boots, Matalan, £28
These heeled ankle boots just hit so many key trends this season; the chunky block heel, and the embroidery which includes the heel, we think these are an absolute bargain. Matalan have done a fantastic job at mimicking more high-end designer brands with this boot and at a fraction of the cost – you can snap these up for less than £30! We recommend teaming with a glamorous velvet midi skirt or your favourite pair of skinny jeans for an elegant and ever-so-slightly quirky look this season.
Jewelled ballerina pumps, M & S, £29.50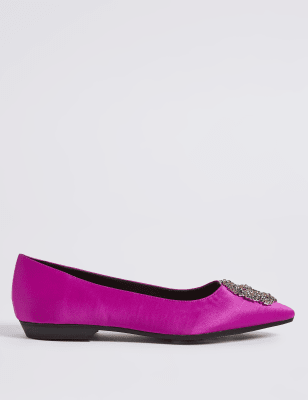 We don't think that our love affair with ballerina pumps is ever going to end so of course we love these beautiful jewelled ones from M & S in a rich jewel colour too. Also available in a slightly less ostentatious blue-black colour, we are loving the shiny satin and the jewelled detailing. Perfect for carrying in your handbag and switching into for a house party or dinner party for example, even a fairly plain work outfit can be rendered completed fantastic by these beauties!
Gold glitter plimsolls, River Island, £24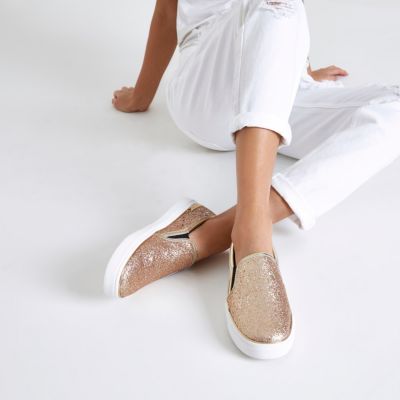 These are perhaps for the more laidback kind of fashionista who prefers the sports luxe look above any other. That doesn't mean that you have to give up on sparkle glitz and all things over the top when it comes to your style – it is sports luxe after all! For a pair of pretty party-ready plimsolls, then we are going to go right ahead and recommend these gorgeous ones from River Island. With gold metal details and of course a supremely generous dusting of glitter, you're going to love teaming these with your jeans and leggings this season – we think they're a complete bargain too.
Low patterned sandals, Schuh, £42
If you like a modest heel, then you are going to love these fabby shoes from Schuh's own brand. With a cute Oriental floral pattern, a stylish block heel and a simple sandal design, you're not going to be hindered by spindly heels this season! Team with a cosy midi skirt and some sparkly socks for an out there look that is bang on trend.
So don't be boring with your shoe choices this season – it's time to really push the boat out!